Firms
From Realm of Magic
Distinct from the Realm's groups, firms are organizations with the specific purpose of generating wealth for its owners. Such companies may be privately held, mobilely held or publicly traded on the Via Pecunia Exchange. Firms belong to industries that include financial services, arcane enhancements (consumer cyclicals), defense, "contractors," mining, construction, publishing and media.
The total market capitalization of all publicly traded stocks is $4,986,299,296. Bank of Rome maintains the largest market capitalization of $2,172,216,248. These figures include nearly $2,000,000,000 in paid-in equity with the residual value driven by innovation and expected earnings growth. As of December 10, 2008, each firm except for WPD has 100 shares outstanding, which means that the market capitalization of a stock is equal to the share price times 100.
Thus far markets have been benign save a recession in early November triggered by a collapse in TSM prices and resulting in the bankruptcy of Ubojica Laboratories (UL). Some economists believe that at current valuations of all stocks, the only way for the market to move is down. However, with strong, sustained growth, markets are bound to maintain the overall trend of up in and out of business cycles.
Price Quote as of 28 Futility 539
BRC Pr P/E  8.00 Beta  0.91    16,000,000  18,930,000 
HC  Co P/E 85.88 Beta  3.03     2,500,000   3,020,000
MMM Pr P/E 19.91 Beta  0.15     2,500,000   2,890,000
PPP Pr P/E 30.52 Beta  0.50     1,500,000   1,680,000
TSM Co P/E 15.88 Beta  0.52     1,500,000   1,620,000
UC  Co P/E 13.87 Beta -0.35     4,500,000   4,590,000
VAP Co P/E 39.91 Beta  1.10     2,500,000   2,970,000
WPD Pa P/E 21.95 Beta  3.27     6,000,000   6,550,000

ERIETF P/E 32.95 Beta  1.00    15,720,000  15,740,000

Chart of Publicly Traded Firms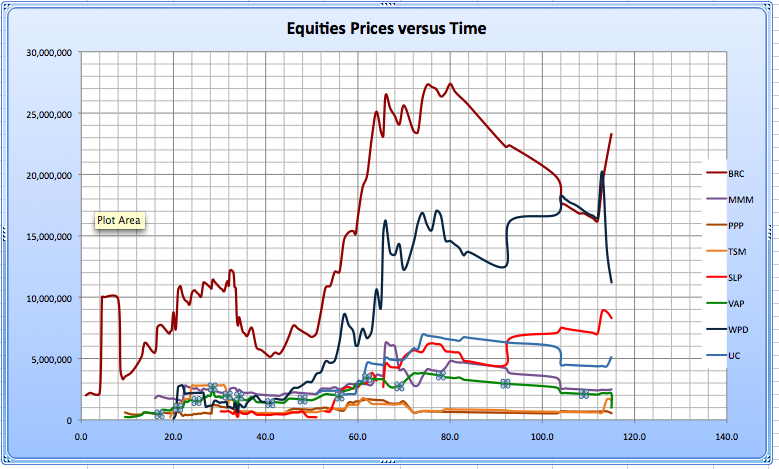 1.0     October 1, 2008
32.0     November 1, 2008
62.0     December 1, 2008
93.0     January 1, 2009

Chart of Market Returns
The index is calculated as an equally weighted average of the returns of all publicly traded stocks. An average of 10% return in each firm results in a 10% increase of this index.
List of Private, Public and Notable Mobile Firms
Symbols for publicly traded firms are in parenthesis.